Benchmarking Visit Kenyan Delegates MIOG Completed
In the week of 28 June 2018, a number of delegates of the Morendat Institute of Oil and Gas (MIOG) have travelled to Aberdeen to visit Oil & Gas (O&G) training institutes and attend presentations of interesting companies.
On Monday the 28th of May, the delegates visited ASET. ASET International Oil & Gas Training Academy is a trading name of Aberdeen Skills and Enterprise Training Ltd (ASET), a wholly owned subsidiary company of North East Scotland College (NESCol). The Company operates mainly on a commercial basis for the Oil & Gas and Construction industries in Process, Maintenance Engineering, Electrical and Ex Hazardous Areas, Emergency Response, Marine, including DP and Stability and Scaffolding on a worldwide basis.  ASET remits all revenue surpluses to NESCol and does not retain any cash or profit.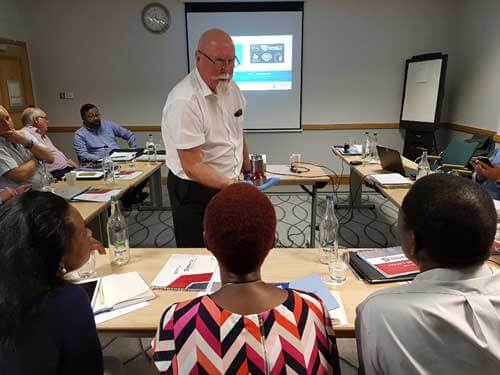 On Tuesday, a number of presentations were arranged from several companies, including Didaktik, Array Training, Atmos Pipeline Simulation and Global BarCode. Didaktik offers services in Instrumentation & Control, Process, Chemical, Electrical, Mechanical, Renewable Energies and HSE engineering disciplines in a broad range of education sectors. Array Training Ltd was set up as Rigmar Training Centre, in Aug 2012 until the 1st May 2015. When rebranded to become Array Training, the vision to provide the North East of Scotland with a leading training facility, dedicated specifically towards Non-Destructive Testing (NDT), was created. Atmos International (Atmos) is dedicated to pipeline technology. Atmos provides pipeline leak detection, theft detection, and simulation technology to the oil, gas, water and associated industries. Global Barcode specialises in solutions relying on knowledge of ITEM Location and the interface with people.
On Wednesday, the delegation visited the Robert Gordon University and a presentation was provided by ETC Simulation. Based in Aberdeen, at the heart of the North Sea oil and gas industry, the Robert Gordon University (RGU) draws upon the vast experience, thought-leadership and exclusive facilities that the institute has built up over more than four decades of engagement with the sector. This background allows the Institute to recognise and understand the increasing maturity of the North Sea, focusing upon the challenges and opportunities it presents, both in the UK and across the globe. Environmental Tectonics Corporation (ETC) was founded in 1969. For over four decades, ETC has provided engineered solutions to its customers with products, service and support, which in many cases leads to better training which saves lives. Innovation, continuous technological improvement and enhancement, and product quality are core values that are critical to ETC's success.
On the last day of the visit, the delegation visited OPITO and attended a presentation of SolidPlant. With over 30 years of experience, OPITO supports the oil and gas industry around the world. OPITO is the global, not-for-profit, skills body for the energy industry. More than 250,000 people are trained to OPITO's standards every year, across 47 countries through 205 accredited training centres. With operation centres in four regions  – UK and Europe, Middle East and Africa, Asia Pacific and the Americas – OPTIO drives safety and competency improvements to benefit the industry. Based in the Netherlands, SolidPlant is a developer in the field of piping and plant design solution. Solidplant is  dedicated to developing solutions that integrate SOLIDWORKS®. SolidPlant offers a complete 3D software package that works seamlessly with SOLIDWORKS. The add-in provides engineers, constructors, and owner-operators with comprehensive engineering software solutions.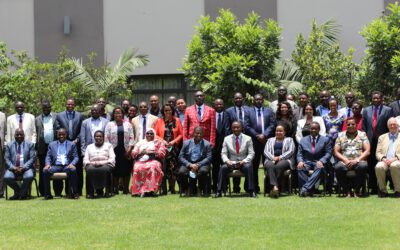 We are pleased to announce that our team of nine key experts and 3 regional coordinators completed the Regional TVET Qualifications Framework for Ethiopia, Kenya and Tanzania (RTQF-EKT) and harmonised 44 occupational standards in the ICT, Transport, Power and Leather...