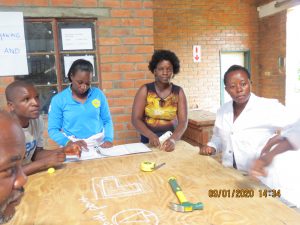 During  period November to January the consultants of Cadena and Getting Competent have successfully implemented 15 day training courses for TEVET Instructors in three regions in Malawi for the UNESCO project "Support to revision of harmonised curricula within construction level 2-3, introduction to revised curriculum and technical upskilling of construction instructors".
The recent training sessions consisted of  three different type of training activities for each trade (covering plumbing, carpentry, electrical and bricklaying):
Technical upskilling for construction TVET instructors within the different level 1-3 construction programmes. The training has been designed based on the TNA carried out under STEP;
Workshops focusing on upskilling in testing and use of assessment frameworks presented in the revised harmonised curricula for construction;
Technical mentoring and supervision for TVET instructors for planning and delivery of training programmes to ensure quality and effective delivery of CBTA based technical vocational training within the construction sectors.
Of the 80 instructors nominated by STEP-PIU and endorsed by Departments of TVETA and the Ministry of Labour, Skills and Innovation, 73 of them attended the training/ workshops. Given the characteristics of the sector, the team was pleased to discover that 20% of the participants were female.
The completion of the three activities was ahead of time,  and as such the team is confident to successfully complete this assignment by the end of March 2020.